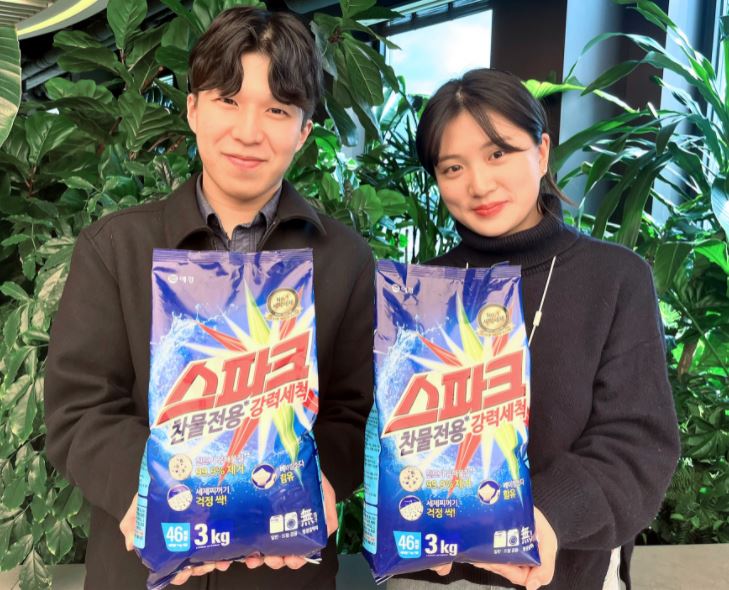 SK Geo Centric and Aekyung Industrial made the first outcome in "cooperation on establishing eco-friendly plastic ecosystem" by applying mono-material packaging to popular detergent brand "Spark"
– Changing composite-material to mono-material packaging, expecting to reduce "more than 1.7 tons of carbon emission per year" by increasing the recycling rate
■ SK Geo Centric determined to "accelerate Waste Plastic & Carbon Zero by continuously developing eco-friendly and easy-to-recycle packaging materials"
On February 17 (KST), SK Geo Centric (SKGC) announced that company has introduced mono-material packaging to Aekyung Industrial (Aekyung)'s flagship detergent brand "Spark". This is a joint achievement of SKGC and Aekyung after one year of cooperation, under the common slogan "Let's build Korea's eco-friendly plastic ecosystem together."
Specifically, the previous composite-material packaging used for Spark's 3Kg refill product will be changed to mono-material packaging developed and produced by SKGC. SKGC and Aekyung expect to increase the recycling rate and, as much as that, to decrease carbon emissions by changing to mono-material packaging.
The previous composite-material packaging could not be recycled and had to be incinerated or landfilled as general waste, because it was made of multi-layered composite material of nylon and polyethylene films. Therefore, when it is replaced with SKGC's mono-material packaging, which is made of polyethylene (PE*), the products can be separately discharged and recycled. SKGC additionally combined the advantages of nylon, such as shock-resistant and easy printing, to bring the same level of quality to this material.
*PE: Polyethylene material that has good waterproof, durability, and transparency properties. Used for packaging plastic films, zipper bags, cosmetics containers, etc.
The two companies plan to annually replace around 450,000 refill packs of Spark with mono-material packaging, and thus decreasing annual carbon emissions by at least 1.7 tons of CO­2. In addition, it is expected that increasing recycling rate will contribute to establishing a circular economy for plastics.
In March last year, SKGC and Aekyung signed an MOU on "Developing Eco-friendly Packaging and Creating Plastic Ecosystem." They agreed to cooperate on introducing mono-material packaging to daily supplies and cosmetics, developing white and transparent packaging, and operating plastic container retrieval and recycling campaigns, etc. The replacement and introduction of new packaging to Spark is one of the achievements of this cooperation.
Previously, SKGC and Aekyung Industrial had applied recycled packaging (PIR-PE*) to refill packs of "LiQ," a smart liquid detergent brand of Aekyung. Both agreed to enhance their partnership further to build the plastic recycling ecosystem and develop eco-friendly packaging.
(*) PIR : post Industrial Wastes made of recycled residues from the plastic molding/production process.
"We will keep expanding development of sustainable eco-friendly materials and easy-to-recycle packaging in order to accelerate our execution of 'Waste Plastic & Carbon Zero' strategy," said Jang Nam-hun Jang, Head of SKGC's Packaging Division.
Meanwhile, SKGC is making a strong drive to develop the products that apply 3R (Reduce/Replace/Recycle) solution with various stakeholders as a way to execute its "Waste Plastic & Carbon Zero" strategy. The goal is to reduce the use of plastic, replace existing products and packaging with eco-friendly and mono-material ones to make them easier to recycle, and increase the recycling rate of landfilled or incinerated plastics to contribute to carbon emission reduction.
For more information about SKGC monomaterial solutions: click here
[Photo] Aekyung Industrial's 'Spark' products using mono-material packaging developed and produced by SK Geo Centric
Courtesy of SKinno News editorial team