SK GEO CENTRIC "3R" STRATEGY
SKFP follows SK Geo Centric 3R sustainability strategy concerning plastic usage.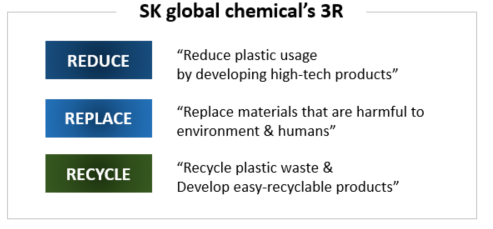 More information about SKGC "3R" strategy.
SKFP "3R" Key Actions
REDUCE

Down-gauging in multi-layer film packaging
Reduce plastic usage in packaging
Reduce packaging weight
Reduce Automotive impact on environment
Use more recycled/biosourced raw materials
REPLACE

Replace PVC by HFFR compounds in industrial applications
RECYCLE

Develop PE & PP monomaterial packaging for easy-recycling
Replace PA barrier layer by EVOH in packaging for easy-recycling
Boost Performance of Post-Consumer & Post-Industrial Waste
Design alloys from recycled plastics using compatibilizers
MOVE FROM A LINEAR TO A CIRCULAR ECONOMY
Within the Circular Economy loop, SKFP products are widely used as:
Performance enhancers of recycled plastic resins;
Compatibilizers of plastic blends;
Solutions to design more eco-friendly packaging, especially monomaterial ones.
.